Click on any of the images to see the enlarged copy and narratives of the photo.




The Carabao Trail is one of the Palanan Trails that I detailed <here>
This trail, because of its convenience is used by the locals in Palanan to drive Carabaos over the mountains and sell them in the Cagayan Valley or in Pangasinan. Some of the poor beasts die on the trail, that is why skulls of Carabaos are littered on the trail.
Same jump-off point and guides as with the Bisag Trail.
Trail is from both sides convenient. From Palanan it is more advantageous regarding unstable weather. If you come from San Mariano you proceed via forest trail the first half of the trip. If the weather changes you cannot push through to Palanan, because of the flooded river and you have to go back all the way to San Mariano. From Palanan Centro to Dipagsanghan, the last village, you can hire, depending on the water level on the Palanan River, a motorized boat or a poled canoe. The motorized boat is fast but expensive for the trip upriver, Palanan Centro to Dipagsanghan, depending on the river current, which causes up to 3-4 times the normal gasoline consumption and would be ca. 1000 Php at a gasoline price of 30 Php/l.
In the worst case you have to walk from "Eof Tric Dibut" to Dipagsanghan, which is flat open trail until "Disibulig" and then take a forest trial until "Dipagsanghan". I did not include this walk in the track here and it will cost you one more 0.5-1 day.
Trail listed from Palanan to San Mariano:
| | |
| --- | --- |
| Waypoints | Type of trail |
| Dipagsanghan - Naramsagen | Divisoria is the last village, but scattered houses are still further away, last house 'GUNG H BULUL'. River trekking crossing the constantly wide Dipadian River. |
| Naramsagen - Forest Edge | Forest trail of moderate steepness in old growth forest. |
| Forest Edge - Brgy San Jose | Former logging road. Thickly overgrown at first. Painstaking for tall persons like me. Body has to be constantly bent over. |
Vertical Profile Carabao Trail Palanan to San Mariano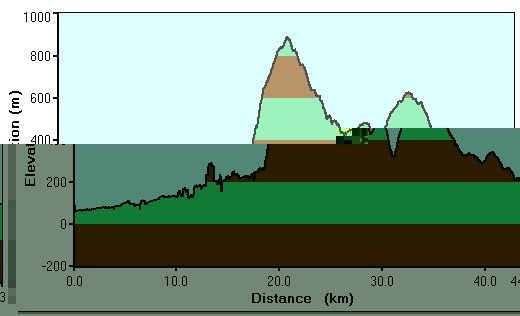 Waypoint narrative by: Martin_Pachner 2009
---