Featured Tourist Attractions of this town/city:
Kennon Lions Head

Strawberry Farm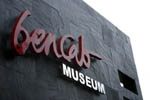 BenCab Museum
Session Road
Other Tourist Attractions of this town/city:
Click on the attraction to display vicinity map.
Attraction
Category
Remarks
Asin Hot Springs
Spring or River

Baguio Cathedral
Landmark
Church

Baguio Dairy Farm
Point of Interest

Balatoc Mines Tourism Village
Park Zoo or Garden

Burnham Park
Park Zoo or Garden

Centered around a man-made lake located at the heart of the city, the park is a favorite place of local residents and visitors alike.
Chinese Bell Church
Point of Interest

A Taoist church. The chinese compound features intricately designed arches and buildings with bells and dragons. It has a pagoda, and beautifully landscapped gardens.
Crosby Park
Park Zoo or Garden

Easter Weaving School
Point of Interest

Good Shepherd Convent
Point of Interest

The store at this convent is known for the products made by the Good Shepherd nuns. The products are popular among tourists as take-home pasalubongs from Baguio
Lourdes Grotto Mirador Hill
Point of Interest

Mansion House
Point of Interest
Institution

The Mansion House is the official summer residence of the President of the Philippines.
Maryknoll Ecological Sanctuary
Point of Interest

Mines View Park
Scenic View

Probably the most visited park in Baguio. Offers a breathtaking panoramic view of Benguet gold and copper mines.
Philippine Military Academy (PMA)
Institution

aka Fort Del Pilar. It is the premier military institution of the country and is the training ground for future officers of the Armed Forces of the Phillippines.
Wright Park
Park Zoo or Garden

Recommended Good Eats places that are unique to this town or city:
Click on the Place to display vicinity map.
| | |
| --- | --- |
| Place | Remarks |
| Saluds | Must eat place when in Baguio. The chicken terriyaki salad is highly recommended |
| Omaikhan | Yummy crispy pata. I like their Mongolian Barbecue since veggies are fresh. |
| The Masters Garden | Very good organically grown vegetable salad dishes |
| Batirol | Very good chocolate drink done the old fashioned way of using the Batirol |
| Tabligans | Well known in Baguio for their Kambing (Goat) food dishes. |
| Slaughterhouse Restos | Igorot food like pinikpikan, grilled whatever.. cooked and served directly from the slaughterhouse |
What to experience in this place:
Festival(s):
Panagbenga -- Month long festival of flowers., February

Culinary: (must try or must bring home as pasalubong)


Crafts and Trades
Vegetables
Flowers
Strawberries
Click on any of the images to see the enlarged copy and narratives of the photo.
Summer Capital of the Philippines
---
---