Click on any of the images to see the enlarged copy and narratives of the photo.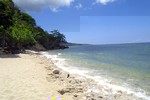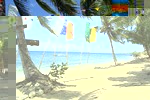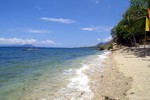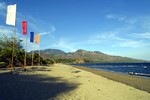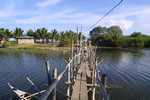 Atis (Sugar Apple) Capital of the Philippines
---
Lobo is about 150+km from Manila. It is located near the southern tip of Batangas province. Lobo offers many attractions. It has good white sand beaches whose ocean floor slopes gradually for nearly 200 meters before a drop-off. It has very good coral and marine life on some of its beaches that attract many snorklers, scuba divers and underwater photographers. It also has protected mangrove forests and fish sanctuaries.
How to get there
From Manila, take the South Luzon Tollway all the way to the south end. At the end of the tollway, take the exit that points to Lucena and drive along this national road until you reach the Calamba boundary. About 1.5km from the boundary of Calamba, turn right and take the Star Tollway (Batangas Expressway) up to the Lipa Exit at the end of the tollway. Upon exit, head eastward towards Lipa.
At Lipa, you are to head for the town of Rosario. This may be easier said than done however as going through Lipa to go to Rosario may prove to be a challenge. Lipa has circuitous streets, several one-way streets, and few road signs, so follow these directions carefully when going through Lipa:
About 1.4km from the Star Tollway exit, you will see the De La Salle Lipa on the left side of the road. Several meters from De La Salle, there will be a junction. Head straight east towards Lipa town proper until you see a monument on a Y junction on the right side. Follow the road as it merges with the road on the right and immediately keep an eye for Kapitan Luz Street which is barely a few meters from the monument and turn right at this street, then turn left at Kalipulako then right at P. Torres. P. Torres street should lead straight out from Lipa and heads southeastward towards Padre Garcia and Rosario.
About 8.5km from Lipa, there will be a junction that leads to Padre Garcia. Do not go into Padre Garcia. Instead, head straight then southwestward about 3.5km to Rosario.
At Rosario, simply head straight through town and head further south until you reach the town of Taysan where you will hit a T junction. Turn left at the T junction towards Lobo. Immediately after turning left, there will be a Y junction. The road to the left (to Dagatan) is supposed to be a shorter route to Lobo, but, as of travelogue time (2002), this road is unpaved and very rough. Take the road to the right instead. This should have a much shorter stretch of dirt road, a section goes through a quarry area of the Fortune Cement Plant and ends intersecting with the National Road that links Batangas City and Lobo.
When you hit the National Road, turn left (actually, it is nearly a U-turn to the left) and head for Dagatan and Lobo. The directions will be simple from hereon ... Just follow the road. It will be about 20km from this point to Lobo, through winding roads up then down along the side of Mount Liguayen.
Tips
Prepare for rough roads. As of travelogue time, there is almost 20km of rough, totally unpaved road between Taysan and Lobo.
Waypoint narrative by: EPPGarcia 2002 follow EPPGarcia on Facebook
---