Click on any of the images to see the enlarged copy and narratives of the photo.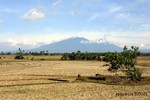 The Holy Mountain of the Philippines. Via Dolores town, climb is relatively easy, through the lush vegetation of the slopes. Clean water is quite abundant. This is route taken by many as it is one the safest.
Coming from Candelaria, I took the Lagnas River (Sariaya) route. This is what we call the "follow the river" assault. The careless may discover the meaning of the phrase "romancing the rocks" in this path.
Lagnas River has "more rocks than water" ranging from pebbles to gargantuan. The water is described by some as "red" or "pula" in certain areas. The chemist in me sees the rich deposit of iron compounds giving the water its rusty shade. Carrying of bolos is allowed but they must be concealed.
On one occasion I was stopped at a "checkpoint" just north of Masalukot 5. We were politely requested to deposit our cameras in a station manned by armed men. They were to be returned on our way out. I managed to convince the "inspector" to let me through with my camera after I handed to him a roll of film. I did not have a digital camera then.
I reasoned that I am not coming back that way and so I cannot pick it up. No, they were not thieves. They are just preserving the image of Banahaw as a holy place and not a tourist spot.
Banahaw has been described as the other Jerusalem. On the summit is a big wooden cross installed by devotees many years ago. The temple of the Rizalists is also found on Mt. Banahaw. The Rizalists believe that Jose Rizal is not just an ordinary hero. To them, he is a god.
The "UFO enthusiasts" on the other hand, claim that it is also a "hideout" of the extra-terrestial. Stories of flying saucer landings and "flight acrobatics" abound.
From Sariaya, it takes 2-3 days to get to the "crater" and another 2-3 hours to ascend from the crater to Durungawan, the summit... a ~ 60 degree climb.
Several times we found big bats overhead. On another occasion, we were chased by "pukyutan" .... a kind of bee said to be capable of downing animals as big as a horse. My buddy Bobby de Guzman was chased into the water after being stung several times. An herbolario who was on his up when he saw us offered his talents to fix Bobby. When asked how many stings Bobby had, he said, "I don't know. I stopped counting after 100." Bobby survived! No he's not bigger than a horse either.
The crater is laiden with moss. It felt like carpet. A gently flowing stream provided drinking water. The same water is believed to posses healing powers. A marked grave is found in a corner. Buried under is the body of a climber who got too sick to continue and expired before rescue teams arrive. After offering prayers, we pitched tents and spent the night in the crater. It was very cold!
On Descent, we followed the Dolores trail. In Dolores town we took a jeepney back to Candelaria where my mother's native chicken tinola was waiting!
Waypoint narrative by: Eric_Punzalan 2006 follow Eric_Punzalan on Facebook
---